12th June 2023
2023 Top 50 Inspiring Workplaces announced in North America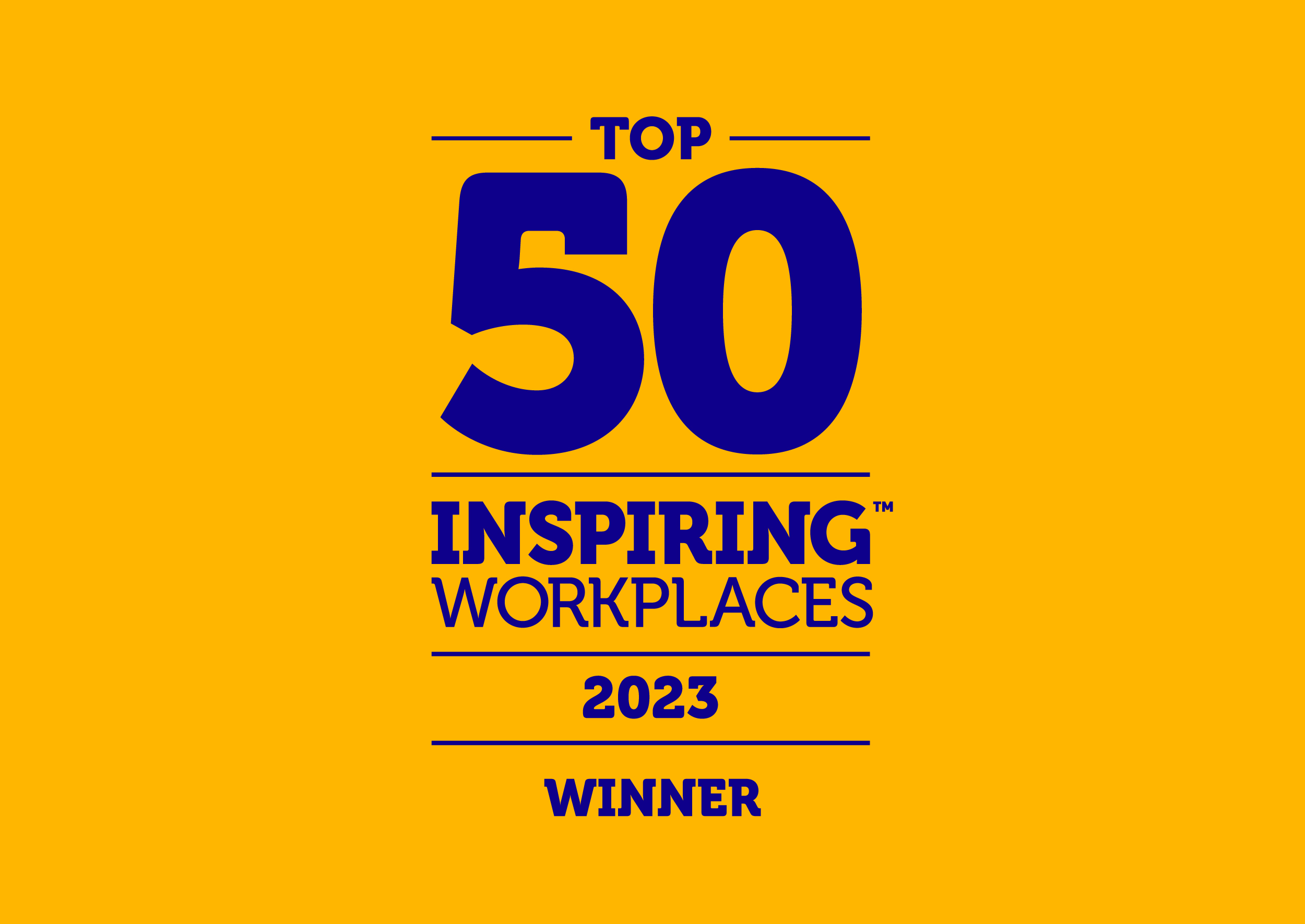 Top 50 Inspiring Workplaces announced in North America
Top 50 include:

AllSaints, Anheuser-Busch, Experian, Federal Reserve Bank of NY, Union Pacific and Verizon

and more

Announced at an exclusive Awards Ceremony in Chicago on June 7, 2023
Chicago – June 08, 2023. Last night The Inspiring Workplaces Group announced its Top 50 Inspiring Workplaces list in North America. 
The Inspiring Workplaces Awards 2023 asked each organisation to complete the entry form consisting of six key elements. Elements it believes are fundamental to creating an Inspiring Workplace. They are:
Culture and Purpose

Leadership

Wellbeing

Inclusion & Diversity

Communication

Employee Experience
These elements were also available to be judged separately for special recognition in each discipline. 
Organisations entered a category defined by how many people are within the business.
The Top 50 was decided by an independent expert judging panel.
Matt Manners, Founder, The Inspiring Workplaces Group commented, 
"Congratulations to The Top 50 Inspiring Workplaces throughout North America. The calibre of submissions this year has seen the bar raised considerably. The strongest that we have ever seen. This shows that business leaders really are putting their people first and reaping the rewards this deserves. It also shows that positive, meaningful change is being delivered throughout the world of work."

The North America Top 50 Inspiring Workplaces*:
1 Calix
2 Reward Getaway
3 Union Pacific Railroad
4 Jackson Healthcare
5 IGS Energy
6 Paystone
7 Federal Reserve Bank of NY
8 Sentinel Technologies
9 CooperCompanies
10 Rackspace Technology
11 Navvis
12 Anheuser-Busch
13 Experian
14 Tata Consultancy Services
15 Fusion Homes
16 TheMathCompany
17 Applauz Inc
18 ISAAC Instruments
19 Lexum
20 Maple (getmaple.ca)
20 Clairity, Inc,
21 Verizon
22 Acceleration Partners
23 Breaktime Media
24 Arity
25 ORTEC Int. USA, Inc.
25 Ocean State Job Lot
26 iQmetrix Software Development Corp
26 Avail Car Sharing
27 Standing Partnership
28 Skai
29 Kroger
30 ActBlue
31 Too Good To Go Canada
32 Thomas Thor US LLC
33 Moniker Partners
34 Royal Ambulance
35 Hotspex
36 US Patent Trademark Office
37 Plum
37 O'Reilly Media
38 Milk and Honey PR
39 Zoox
40 PagerDuty
41 We Are Rosie
42 Stanton House Inc
43 Vital Farms
44 AMMD, LLC
44 Valor
45 2U, Inc
46 CAI
47 Workhuman
48 Uberflip
49 Concentrix
49 AllSaints
50 World Finance
50 Ledcor Group of Companies
*joint rankings occur where judges assigned companies the same scores
Business size categories:
Organisations entered based upon the size/type of organisation. The Top 5 were announced in each category last night. They are as follows:
Government & Non-Profit:
Federal Reserve Bank of NY

US Patent Trademark Office

We Are Sharing Hope SC

Edmonton Mennonite Centre for Newcomers

Primary Health Network
Small Business (0 – 49 employees):
Applauz Inc

Lexum

Clairity, Inc,

Breaktime Media

Standing Partnership
Medium Business (50 – 499 employees):
Paystone 

Navvis

Fusion Homes

ISAAC Instruments

Maple (getmaple.ca)
Large Business Winners (500 – 4999 employees):
Calix

Reward Getaway

Jackson Healthcare

IGS Energy

Sentinel Technologies
Enterprise Business (5000+ employees):
Union Pacific

CooperCompanies

Rackspace Technology

Anheuser-Busch

Experian
Special Recognition
We will officially announce the 'Special Recognition' lists in September, along with a Global Top 100 Inspiring Workplaces – combining North America, Australasia and EMEA. 
Enter the 2024 Inspiring Workplaces Awards
Want to have the chance of being named in The Top 50 Inspiring Workplaces across the world? Download the entry pack here. Entries will open August 1, 2023.
Award Sponsorship
There are various opportunities for organisations to partner with Inspiring Workplaces. For more information please contact [email protected]
About Inspiring Workplaces – change the world
Inspiring Workplaces is headquartered in the UK and operates in North America, Africa and Australasia. Inspiring Workplaces™ believes in recognising and shaping the new, forward-thinking organisations of the future. By shedding the light on these innovative workplaces, Inspiring Workplaces helps to encourage positive change in workplaces as well as provide a source of inspiration and education for those who seek it.
For more information on Inspiring Workplaces:
Matt Manners
+44 (0) 7799876473
[email protected]
www.inspiring-workplaces.com
Twitter/Instagram: @inspireworknow
LinkedIn Group/ Facebook: Inspiring Workplaces