11th September 2023
Why reward and benefits leaders are prioritising benefits to support wellbeing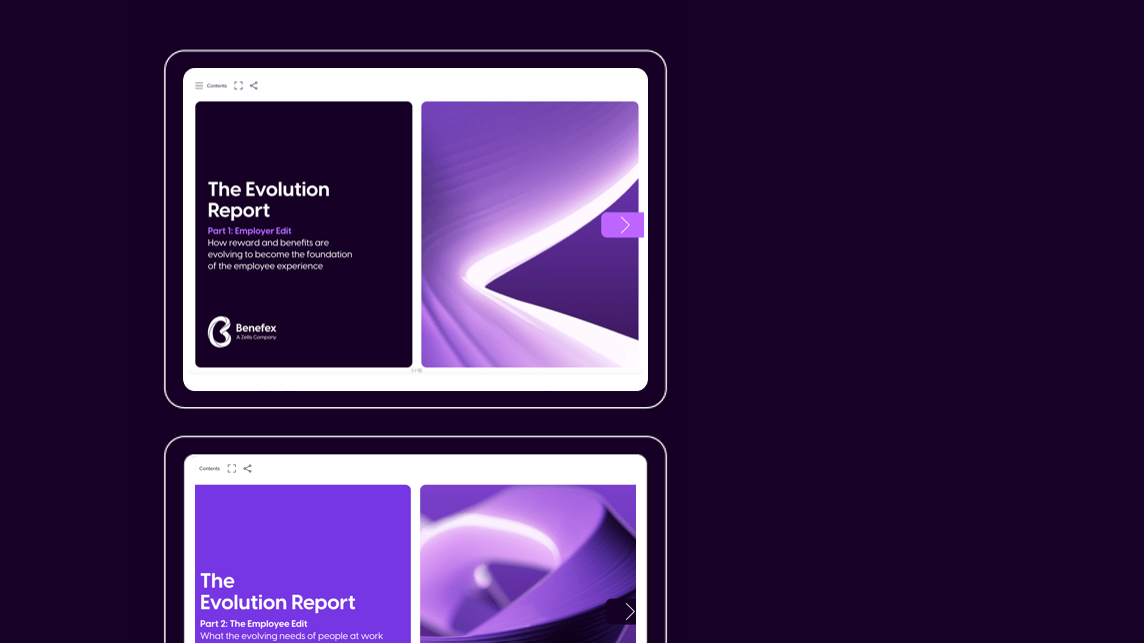 Author: Anna McLoughlin, Psychologist and Emotional Wellbeing Lead, Benefex
Wellbeing is still the top consideration for employees who are looking for a new role; 65% of employees said it was the most important factor when choosing an employer. And employers also recognise the strategic importance of wellbeing in attracting, engaging and retaining the best people – 49% of employers we surveyed said they're planning to increase their focus on wellbeing in the next two years (Benefex, 2023 Evolution research). 
Our Evolution report highlighted the need for employers to adapt at pace to deliver on employee expectations and revealed that benefits and recognition will continue to play an important role in wellbeing provision. 
Unlocking the power of the employee experience 
The employee experience holds great importance for organisations aspiring to be employers of choice and attract exceptional talent. Our research highlights a shift in priorities since we surveyed employers in 2021, as becoming an employer of choice is now top of the list when it comes to focusing on employee experience (in 2021, it was only fifth on their list of priorities). And HR, reward and benefits leaders are turning to employee wellbeing, benefits, and recognition to deliver a remarkable employee experience. However, many organisations acknowledge the need for improvement, with only 32% of HR and reward leaders rating their employee experience as excellent. 
Benefits are the catalyst for greater employee wellbeing 
Employee benefits are having something of a renaissance as organisations address their key HR challenges. HR leaders recognise benefits as more than just a formality; they're a strategic tool to enhance employee wellbeing, productivity, and talent acquisition and retention. 
But while there is growing awareness of the impact of benefits, there's still untapped potential within the employee benefits toolkit for many organisations. Half of HR, reward and benefits professionals reveal that employees now demand greater flexibility and personalisation in benefits compared to a year ago, and 48% note an increase in employee expectations for wellbeing support. To address these demands, employers must leverage technology, data, and insights to shape their benefits strategy and effectively measure the outcomes. 
Addressing the data deficit + embracing benefits technology trends 
Many organisations struggle with data collection and analysis to evaluate the effectiveness of their benefits and wellbeing programmes. Currently, less than half of organisations use data to measure the impact benefits have on wellbeing, or gather employee feedback. 83% of HR and benefits leaders point to a need for better insights and analytics to understand benefits spend, uptake, and return on investment. High quality benefits technology is the solution – making it easier for employers to show the value of everything they offer their people, better understand employees, reduce administration, decrease compliance risk, and importantly prove ROI. 
Advancing wellbeing provision 
Enhancing employee wellbeing has gathered significant attention from organisations, especially amid the cost-of-living crisis. Despite progress (89% of HR, reward and benefits professionals acknowledge advancements in their employee wellbeing strategies over the past year), most organisations still operate at a basic or foundational level of maturity in their wellbeing initiatives. While HR and reward leaders understand the importance of prioritising wellbeing, they face challenges in identifying the key areas to focus on next. Larger organisations with over 1,000 employees tend to exhibit more advanced wellbeing provisions, reflecting the increasing complexity and range of services required. 
What next for employee benefits and wellbeing provision? 
Employees are seeking more than just financial remuneration; our research shows their desire for more relevant and personalised benefits that support their wellbeing. Challenging economic conditions and ongoing market uncertainty are causing businesses in all sectors to look for cost efficiencies, but the research suggests that spending within HR and Reward will increase over the next 12 months. 
This is a clear reflection of the fact that business leaders realise that they need to do more to retain, engage and motivate their people against the backdrop of fierce competition for talent. Most HR and Reward professionals report that they'll be increasing spending across all eight of the areas that sit, to some extent, within the new remit of the reward function. Benefits provision is regarded as the most effective route to enhance employee wellbeing, improve engagement and retention, boost productivity and attract new talent.
Read the Evolution report  
Benefex's new Evolution report explores the evolving relationship between global employers and employees – and how rewards and benefits are adapting to changing employee needs. This year, to explore both sides of the relationship in depth, we've created two white papers: The Employee Edit and The Employer Edit. The second part, The Employer Edit, draws from 100 online interviews conducted with HR, reward and benefits professionals from organisations employing 200 or more individuals. Read it here.