26th September 2017
June Newsletter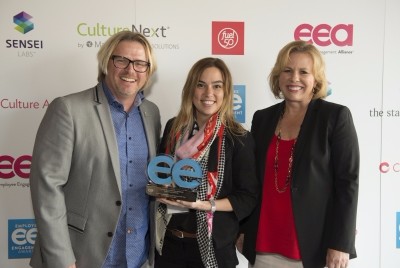 Hello,
It's been another wonderful month here at The EEA.
We started the month attending The North American Employee Engagement Awards and Conference in Chicago. The line up of speakers and content from the entrants was incredibly inspiring. The venue was ultra cool and the breakfast in particular was a personal highlight!
We've finalised the date for our Summer Networking Party in collaboration with our partner, Peakon, at their new offices which are set to open within the coming weeks. The date was chosen based on our member's availability, and places will be limited so don't delay in booking! Save the date: August 10th, 6-9pm.
We're delighted to announce that we've been formally assessed and are now an accredited CPD event provider.
We've got a few spaces left for our 11th July event 'How to create a culture of employee engagement' with Tom Robinson. This event is filling up fast so secure your place now.
Our new Insights section is launching within the coming weeks with much more content, searchable features and an easier to navigate layout. If you've any great content (videos, podcasts, whitepapers, templates, guides, research etc) that you feel would benefit fellow members, and would like us to include it, then get in touch.
Finally, the past couple of months has seen some incredibly sad events happening across the UK and our thoughts are with anyone affected by the recent terrorist attacks and Grenfell fire. Has this heightened level of terror affected your team? What's your plan for supporting your people through these difficult times? Have you done anything in particular in your business that you'd be willing to share?
I'd love to hear from you [email protected]
Read The Newsletter