05th September 2023
First ever global Top 100 Inspiring Workplaces announced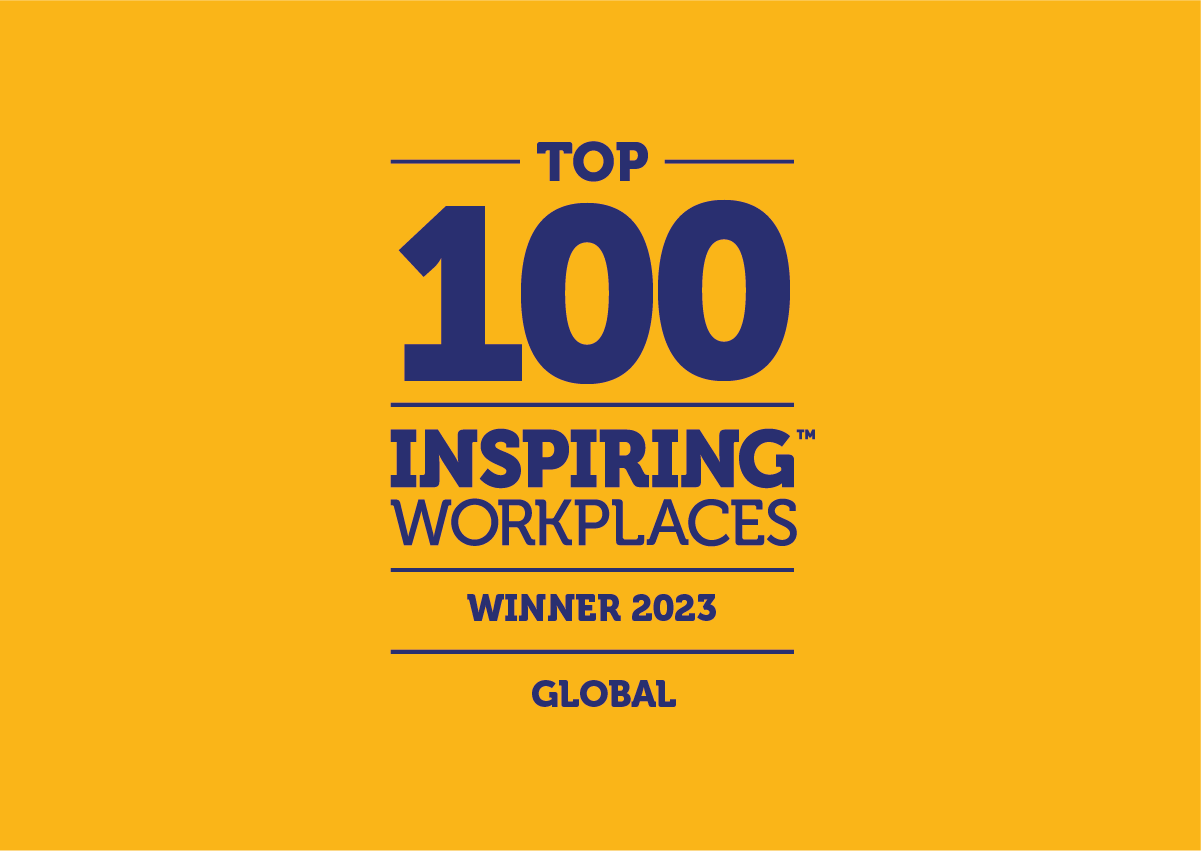 Top 20 include

Anheuser-Busch,

Concentrix, Experian,

Federal

Reserve Bank of NY, Gartner and overall winner Rackspace Technology
NYC – September 07, 2023. Today, The Inspiring Workplaces Group announces its first ever Global Top 100 Inspiring Workplaces list.

The inaugural Top 100 has been made up of organisations across North America, EMEA and Australasia.

The upcoming 2024 Inspiring Workplaces Awards has expanded and will now operate in the following regions:
North America

UK & Ireland

Europe

Latin America

Asia

Middle East & Africa

Australasia 
Matt Manners, Founder, The Inspiring Workplaces Group commented, "There are no geographical boundaries to an Inspiring Workplace and the people who create them. It is with pride that we publish the Top 100 Global Inspiring Workplaces list for the very first time. Congratulations to those organisations that made both their regional list and the new worldwide accolade". 
The ranking for the first ever Global Top 100 Inspiring Workplaces:
1       Rackspace Technology
2=    Calix
2=    Reward Gateway
4       The Phoenix Group
5       PagerDuty
6       Concentrix
7       Union Pacific Railroad
8       Jackson Healthcare
9       IGS Energy
10=  British Society for Rheumatology
10=  Paystone 
12      Federal Reserve Bank of NY
13      Sentinel Technologies
14      CooperCompanies
15      Navvis
16      Latro Kimya Dış Ticaret A.Ş.
17=   Anheuser-Busch
17=   Travelport
19      Gartner
20=   Diligent
20=   Experian
22=   Liz Male Consulting Ltd (LMC)
22=   Tata Consultancy Services
24      Fusion Homes
25      Innovecs
26=   Swift
26=   TheMathCompany
28      Elm Professional Services
29      Applauz Inc
30      ISAAC Instruments
31      Lexum
32=   Clairity, Inc,
32=   Maple (getmaple.ca)
34=   Bite Latvija
34=   Cielo
34=   TaskUs
37      Verizon
38      Acceleration Partners
39      Breaktime Media
40      Arity
41      Enboarder
42      DevOn
43=   Perth Mint
43=   Aldi
43=   BBC Studios
43=   Form3
47=   Ocean State Job Lot
47=   ORTEC Int. USA, Inc.
49=   Avail Car Sharing
49=   iQmetrix Software Development Corp
51=   BGIS
51=   Silverchef
53     Standing Partnership
54=   AddSecure
54=   Financial Services Compensation Scheme
56      Skai
57      Kroger
58      ActBlue
59      Too Good To Go Canada
60      Thomas Thor
61       Moniker Partners
62=    Alice Public Relations
62=    N-IX
64=    NHS Business Services Authority
64=    Royal Ambulance
66      Hotspex
67      US Patent Trademark Office
68=   Plum
68=   O'Reilly Media
70      Milk and Honey PR
71=   Huler
71=   Liberty Seguros
73=   Xalient
73=   Zoox
75      We Are Rosie
76=   BCW
76=   Maneuvre
78      Stanton House Inc
79      Vital Farms
80=   AMMD, LLC
80=   Valor
82      2U, Inc
83=   Anthony Nolan
83=   CAI
85=   Churchill Retirement PLC
85=   Workhuman
87      Uberflip
88=   AllSaints
89      Salutem Care and Education
90      M&C Saatchi Sport & Entertainment
91=    BAT
92      Brightec
93      Etisalat Egypt by e&
94=   Ledcor Group of Companies
94=   World Finance
96      Bank of London and The Middle East (BLME)
97      Claritas Tax
98     Policy Expert
99     Afea
100   Product Madness
*The highest scoring region was used for organisations who entered in multiple regions.

About the IW Awards
The Inspiring Workplaces Awards 2023 asked each organisation to complete the entry form consisting of six key elements. Elements it believes are fundamental to creating an Inspiring Workplace. They are:
Culture and Purpose

Leadership

Wellbeing

Inclusion & Diversity

Communication

Employee Experience
These elements were also available to be judged separately for special recognition in each discipline. 
Organisations entered a category defined by how many people are within the business.
The Top 100 was created by taking the scores from each region in 2023. The entries were judged and scored by local expert and independent judges.  
Enter the 2024 Inspiring Workplaces Awards
Want to have the chance of being named an Inspiring Workplace in your local region and global list in 2024? We are now open for entries! Download the entry pack here.
Sponsorship
There are various opportunities for organizations to partner with Inspiring Workplaces. For more information please contact [email protected]

About Inspiring Workplaces – change the world
Inspiring Workplaces is headquartered in the UK and operates in North America, Asia, Europe, Middle East & Africa, Latin America and Australasia. Inspiring Workplaces™, believes in recognising and shaping the new, forward-thinking organisations of the future. By shedding the light on these innovative workplaces, Inspiring Workplaces helps to encourage positive change in workplaces as well as provide a source of inspiration and education for those who seek it.