16th February 2021
Stories from an Inspiring Leader – Rachel Marano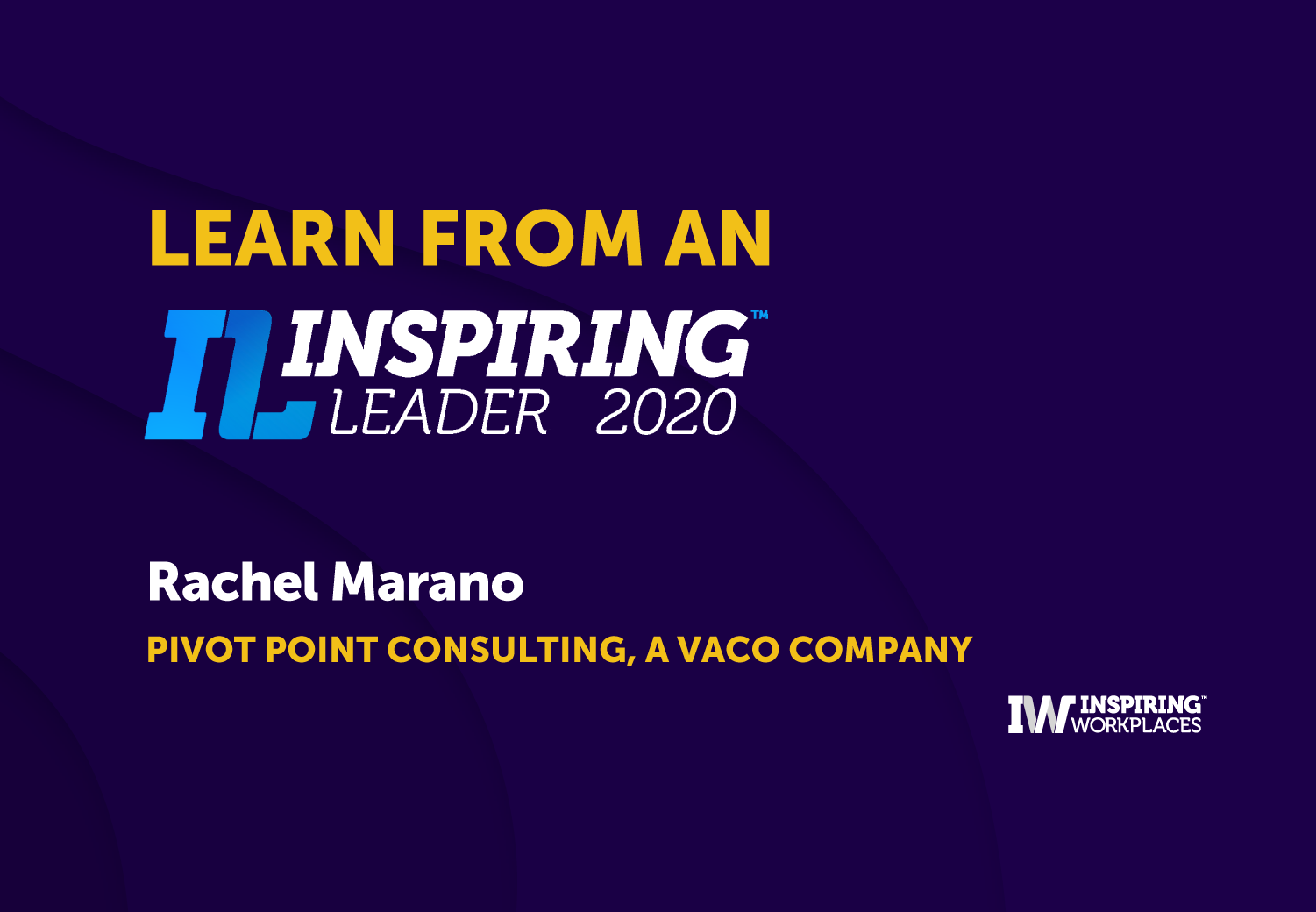 Rachel Marano, Co-Founder, Pivot Point Consulting, a Vaco Company
As a leader in healthcare, Rachel's clients are on the front lines of the pandemic so her focus was being empathetic to what they were experiencing while supporting and educating clients with flexible options for remote work. She met our clients where they were with helpful tools to educate and enable them to respond rapidly with solutions. She truly cares about every client experience and actively engages with all clients even as the founding partner. Rachel goes beyond the data to hear the customer voice and ensure the customer is always first.
Diversity, Equity and Inclusion was also a top priority for Rachel in 2020. She appointed a Diversity, Equality and Inclusion (DEI) taskforce dedicated to promoting diversity through education, dialogue, awareness and speakers, as well identifying and championing actions we can take as a company to actively support and embed diversity and inclusion efforts in our workforce.
In 2020, Rachel doubled down on Happyology, our consultant and employee care program, at a time when everyone needed to feel supported. Through the pillars of Happyology (appreciation, recognition, motivation, education and wellness) she showed kindness and gratefulness by creating an exceptional experience for our people. Some of her Happyology initiatives include: Celebrating personal and professional accomplishments, life events and support within Pivot Point and beyond, company-wide excellence awards, Skillsets online courses, Volunteer Time Off, Wellness discounts and more. Since COVID-19, she has taken great efforts to ensure our employees feel connected, engaged and supported from afar with monthly virtual opportunities for team building, monthly All Hands team calls and hosted a successful virtual "Family Reunion".
Endorsement
"Rachel is unequivocally an Inspiring Leader. […] When it comes to caring for people and nurturing relationships, she leads by example. She's the first to jump in with a high five when there's something to celebrate and / or when a staff member or client needs support. Her enthusiasm and attitude of care is infectious […] She inspires me and many others to be our best selves' as people and as industry leaders."
About Inspiring Leaders
The extract above is taken from the Inspiring Leaders 2020 initiative which recognised exceptional leaders during the Covid-19 pandemic. You can download the full eBook with all the leader stories here.
Inspiring Leaders was created as a vehicle to recognize people who stepped up to help individuals, teams and organizations navigate personal and business challenges, and make a contribution to make their business, their community and the world a better place.
Due to the success of IL 2020, we have brought it back in 2021. We are now open for nominations. For more information about how to enter Inspiring Leaders, dates and fees – click here.