27th July 2023
Inaugural Inspiring Workplaces announced in Australasia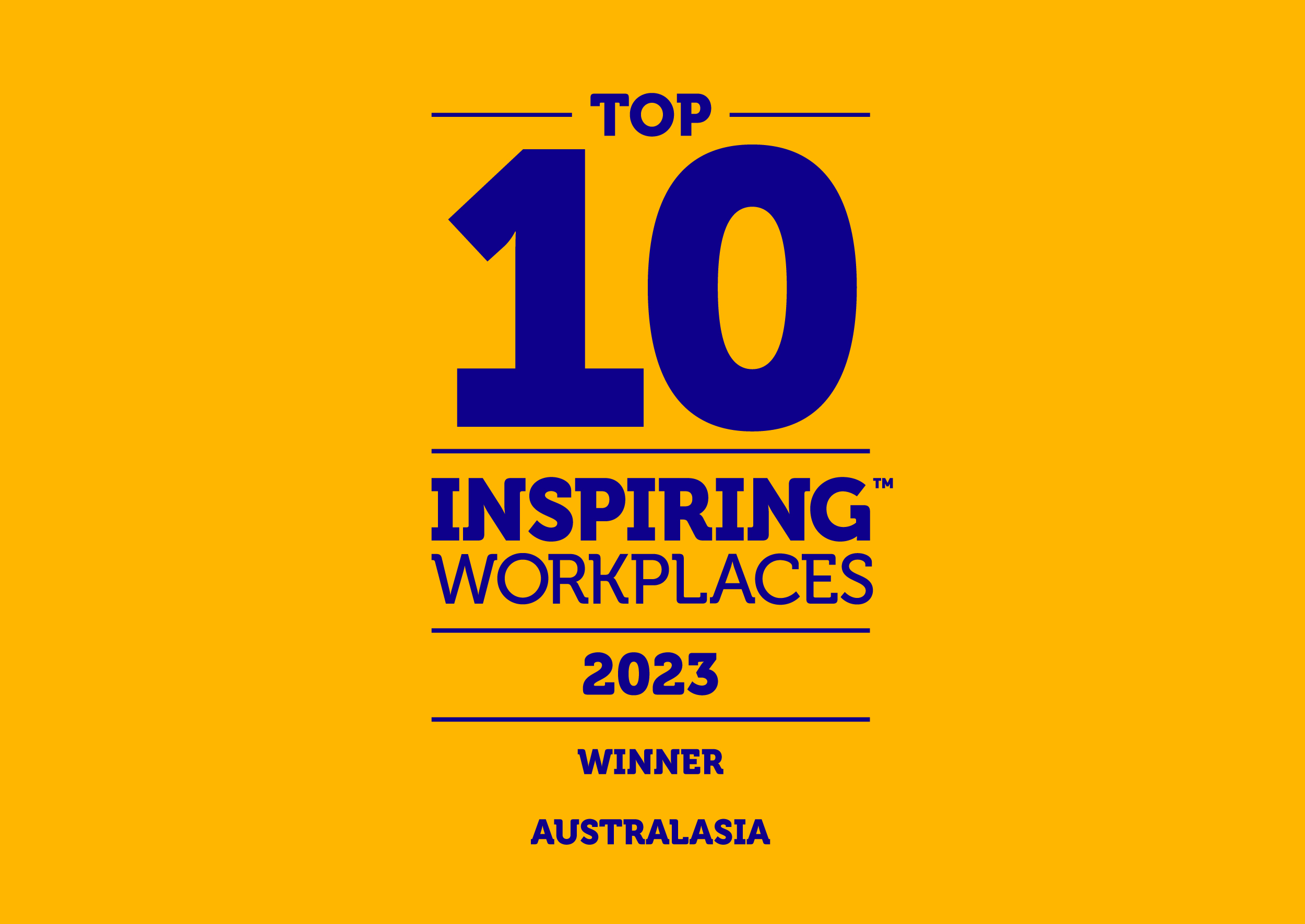 Top 10 include:

Gartner, Elm Professional Services, Diligent, SilverChef and more

Announced at an exclusive awards ceremony in Sydney on July 27, 2023
Sydney – July 27, 2023. Tonight in Sydney, The Inspiring Workplaces Group announced its first ever Top 10 Inspiring Workplaces list in Australasia. The Inspiring Workplaces Awards recognize and celebrate organizations that have created exceptional PeopleFirst workplaces. The awards aim to honour those that have created a positive and inspiring work culture for their people – where they feel like they belong.
The Inspiring Workplaces Awards 2023 asked each organisation to complete the entry form consisting of six key elements. Elements it believes are fundamental to creating an Inspiring Workplace. They are:
Culture and Purpose

Leadership

Wellbeing

Inclusion & Diversity

Communication

Employee Experience
These elements were also available to be judged separately for special recognition in each discipline. 
Organisations entered a category defined by how many people are within the business.
The Top 10 was decided by an independent expert judging panel.
Matt Manners, Founder, The Inspiring Workplaces Group commented,"Congratulations to the first ever Inspiring Workplaces named in Australasia. The trailblazers for that part of the world and inspiration for many more to follow. Like with North America and EMEA, the calibre of entries in ANZ highlights that business leaders everywhere really are putting their people first and reaping the rewards this deserves."

The Top 10 Inspiring Workplaces in Australasia*:
1 Gartner
2 Elm Professional Services
3= Diligent
3= Enboarder
4 DevOn
5 The Perth Mint
6= BGIS
6= SilverChef
7 Afea Care Services
8= Indosat Ooredoo Hutchison
8= ConsenSys
9= PagerDuty
9= Rackspace Technology
10 Lendlease
*joint rankings occur where judges assigned companies the same scores
Special Recognition
We will officially announce the 'Special Recognition' lists in September, along with a Global Top 100 Inspiring Workplaces – combining North America, Australasia and EMEA. 
Enter the 2024 Inspiring Workplaces Awards
Want to have the chance of being named in The Top Inspiring Workplaces across the world? Download the entry pack here. Entries will open August 1, 2023.
Award Sponsorship
There are various opportunities for organisations to partner with Inspiring Workplaces. For more information please contact [email protected]
About Inspiring Workplaces – change the world
Inspiring Workplaces is headquartered in the UK and operates in North America, Africa and Australasia. Inspiring Workplaces™ believes in recognising and shaping the new, forward-thinking organisations of the future. By shedding the light on these innovative workplaces, Inspiring Workplaces helps to encourage positive change in workplaces as well as provide a source of inspiration and education for those who seek it.
For more information on Inspiring Workplaces:
Matt Manners
+44 (0) 7799876473
[email protected]
www.inspiring-workplaces.com
Twitter/Instagram: @inspireworknow
LinkedIn Group/ Facebook: Inspiring Workplaces