28th July 2020
On Demand Video: Case Study: How A2Dominion engages its workforce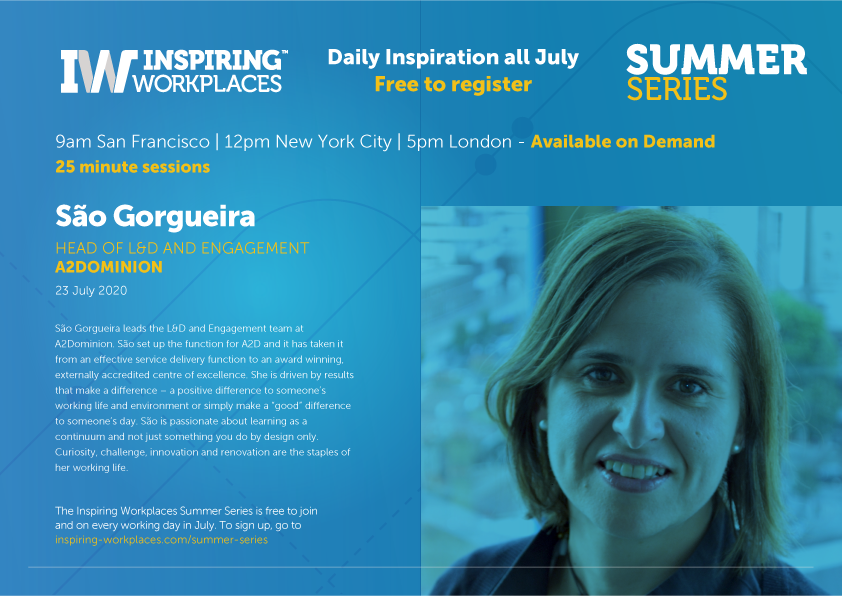 Today marked day 14 of our month-long Summer Series: 25 minute daily talks all throughout July. This session features São Gorgueira, Head of L&D and Engagement, A2dominion. Last Year A2Dominion won the company of the year award for UK and Europe. In this session, São shared the A2Dominion journey on how they engaged their workforce to become an Inspiring Workplace winner.
São's session talked through:
Leading with empathy rather than sympathy
Leadership agility and faster decision making
Future focus and promoting innovation
Building resilience and collaboration
Moving from HR driven to Employee driven
The impacts of Covid-19 and A2D's response
How Covid-19 has changed workplaces for good
To view the on-demand video, you need to be logged in as Inspirer. Once logged in, the video will appear below.
To watch more great inspirational talks with leading influencers, sign up for our Summer Series for free at: https://www.inspiring-workplaces.com/our-events/summer-series/