12th May 2023
2023 Top 50 Inspiring Workplaces announced in EMEA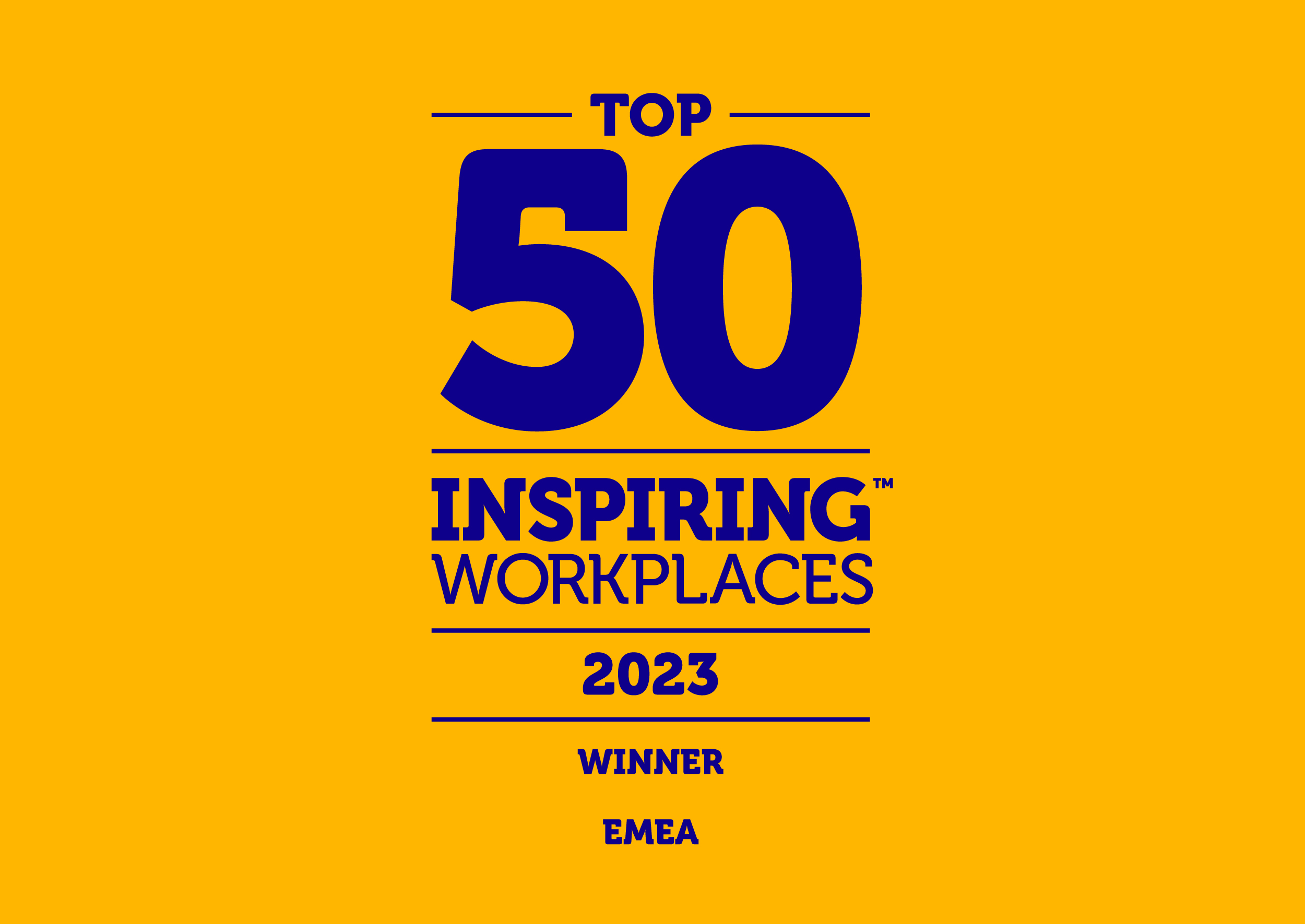 Top 50 Inspiring Workplaces announced in EMEA
Top 50 include: Aldi, AllSaints, BP, BBC, NHS, M&C Saatchi Sport & Entertainment, Travelport and more
Announced at an exclusive Gala Dinner at Tottenham Hotspur Stadium in London
Top 50 in North America to be announced on June 7, 2023
London – May 12, 2023. Last night The Inspiring Workplaces Group announced its Top 50 Inspiring Workplaces list in EMEA.
The Inspiring Workplaces Awards 2023 asked each organisation to complete the entry form consisting of six key elements. Elements it believes are fundamental to creating an Inspiring Workplace. They are:
Culture and Purpose
Leadership
Wellbeing
Inclusion & Diversity
Communication
Employee Experience
These elements were also available to be judged separately for special recognition in each discipline.
Organisations entered a category defined by how many people are within the business.
The Top 50 was decided by an independent expert judging panel.
Matt Manners, Founder, The Inspiring Workplaces Group commented, "Congratulations to The Top 50 Inspiring Workplaces throughout EMEA. The calibre of submissions this year has seen the bar raised considerably. The strongest that we have ever seen. This shows that business leaders really are putting their people first and reaping the rewards this deserves.
It also shows that positive, meaningful change is being delivered throughout the world of work. So this year we did not rank the Top 50 because simply being listed clearly puts those organisations in a new gold standard for PeopleFirst organisations".
The EMEA Top 50 Inspiring Workplaces in Alphabetical Order:
AddSecure
Aldi
Alice Public Relations
AllSaints
Anthony Nolan
AppLearn
Bank of London and The Middle East (BLME)
BAT
BBC Studios
BCW
Bite Latvija
BP
Brightec
British Society for Rheumatology
CarePlanner
Churchill Retirement PLC
Cielo
Claritas Tax
Concentrix
Diligent
Etisalat Egypt by e&
Financial Services Compensation Scheme
Form3
Foundever
FSP Consulting Services Ltd
G-P
Globant
Huler
Innovecs
Julius Rutherfoord & Co Ltd.
Latro Kimya Dış Ticaret A.Ş.
Liberty Seguros
Liz Male Consulting Ltd (LMC)
M&C Saatchi Sport & Entertainment
Maneuvre
N-IX
NHS Business Services Authority
PagerDuty
People and Transformational HR Ltd
Policy Expert
Product Madness
Rackspace Technology
Reward Gateway
Salutem Care and Education
Stanton House Limited
Swift
Taskus
The American Creativity Academy
The Phoenix Group
Travelport
Xalient
Business size categories:
Organisations entered based upon the size/type of  organisation. The Top 5 were announced in each category last night. They are as follows:
Government & Non-Profit:
NHS Business Services Authority
Anthony Nolan
Langley House Trust
Government Internal Audit Agency
King's College Hospital
Small Business (0 – 49 employees):
British Society for Rheumatology
Latro Kimya Dış Ticaret A.Ş.
Liz Male Consulting Ltd (LMC)
Alice Public Relations
Maneuvre
Medium Business (50 – 499 employees):
Financial Services Compensation Scheme
Huler
Xalient
M&C Saatchi Sport & Entertainment
BAT
Large Business Winners (500 – 4999 employees):
Reward Gateway
PagerDuty
Travelport
Diligent
Innovecs
Enterprise Business (5000+ employees):
Rackspace Technology
The Phoenix Group
Concentrix
Aldi
Etisalat Egypt by e&
Special Recognition
We will officially announce the 'Special Recognition' lists in September, along with a Global Top 100 Inspiring Workplaces – combining North America, Australasia and EMEA.
Register for 2024 Inspiring Workplaces
Want to have the chance of being named in The Top 50 Inspiring Workplaces across the world? Register your interest here. Entries will open this September.
Award Sponsorship
There are various opportunities for organisations to partner with Inspiring Workplaces. For more information please contact [email protected]
About Inspiring Workplaces – change the world
Inspiring Workplaces is headquartered in the UK and operates in North America, Africa and Australasia. Inspiring Workplaces™ believes in recognising and shaping the new, forward-thinking organisations of the future. By shedding the light on these innovative workplaces, Inspiring Workplaces helps to encourage positive change in workplaces as well as provide a source of inspiration and education for those who seek it.
For more information on Inspiring Workplaces:
Matt Manners
+44 (0) 7799876473
[email protected]
www.inspiring-workplaces.com
Twitter/Instagram: @inspireworknow
LinkedIn Group/ Facebook: Inspiring Workplaces